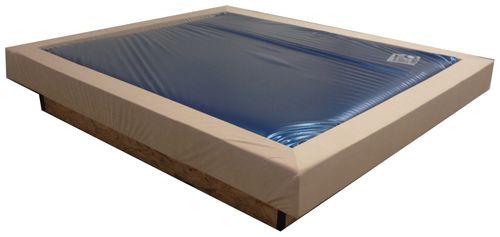 The vast majority of us sleep on a normal spring mattress at home, despite the abundance of choice now on the markets relating to mattresses, new materials, ergonomic and orthopaedic sleeping options. The waterbed is possibly the most recognised of these choices, but also the one that increases the most uncertainty in prospective buyers minds.
What are the risks?
It's natural to assume, due to the very nature of a waterbed, that using one will be slightly risky. After all, maintaining a huge plastic vessel filled with water in our bedrooms is not normally something you would recommend. In this case however, it is far safer than you would think. Even a violent puncture with a sharp instrument won't lead to a leak, as most of waterbeds have a integrated vinyl safety lining which captures any leaks within the lining. The water stays captive inside the plastic, and holes can be easily repaired using kits available at waterbed stockists.
Waterbeds are, in fact, constructed so that they are free of any internal pressure. This means that you could open the'fill valve' and sit on the waterbed, and no water would escape.
The other main worry that tends to come to mind is the amount of weight a waterbed might be putting onto your bedroom floor. The weight of the water is spread evenly over the ground, and any doubts you may have can be assuaged by the professional installation that most waterbed suppliers can offer.
The last thing worth noting is that a waterbed is not just like a fish-tank – you don't have to clean it out every week! The only upkeep a waterbed requires is the inclusion of a special water purifier every six months, to help treat and condition the water and the vinyl inside for maximum performance.
What are the benefits?
For asthma and allergy sufferers: While naturally waterbeds can't provide a cure for all these problems, it may often go quite some way towards reducing suffering. Dust mites and their droppings (which cause many problems for asthma and allergy sufferers) accumulate in regular mattresses and are impossible to eliminate. With a waterbed, it is very simple to remove bedding and wash over the plastic surface with a cloth every now and then, effectively sanitising the bed completely. Water mattress covers can be removed and washed at 60 degrees C, the temperature at which mites are killed. Used in conjunction with allergy-safe bedding, a waterbed can provide even more superior levels of hygiene.
For backache relief: Backache is a frequent problem in modern society, with people making uninformed choices on mattresses and cutting costs in areas where they should be putting more focus. Many lower and upper back problems can be tracked back to an improper sleeping position, and even those who do not suffer with back problems would see significant back health benefits and posture improvement when moving to a mattress that is kinder on their spine. A waterbed acts as a naturally orthopaedic bed, forming about your spine and offering support where it's needed. Floatation systems eliminate pressure from the spine allowing the spinal muscles to fully relax. Doctors also have found that the addition of heat speeds up the relaxation process and increases circulation to rejuvenate problem areas.
For bedsore sufferers: Any individual immobilised and confined to bed for a prolonged period is susceptible to bedsores (decubitus ulcers). The tissue being pinned between hard underlying bone and the surface of the bed for a long period of time causes them. The blood tissues are squeezed, making circulation to the cells difficult. If cells are deprived of blood for a long period of time they eventually die, causing bedsores. Consequently, treatment relies on reducing these stress points. A water mattress spreads the body weight evenly, so blood can circulate freely directly throughout the body. A normal mattress sets uneven pressure on certain areas, whereas a waterbed moulds to the shape of your spine and joints to ease pressure and support your posture lightly throughout the night. The constant warmth of a waterbed further enhances blood flow, keeping your skin healthy and vastly reducing the likelihood of sores developing. For those in convalescence, or those with circulation issues, a waterbed can considerably increase their quality of sleep and skin health.
The warmth of the water helps your muscles to relax resulting in improved blood flow while alleviating sore or stiff muscles and joints. Better circulation means you toss and turn less and get a better nights sleep because your sub-consciousness is permitted to unwind. The improved blood circulation also increases your body's ability to cure, meaning it can concentrate on rejuvenating damaged joints – leaving the waterbed to perform the job of supporting your joints and looking after your posture.
For insomnia relief: This common sleep problem is caused by stress, discomfort, pain, light, noise etc.. It's the inability to fall asleep quickly as a result of mental or physical issues. Just how do a waterbed help? The brief answer is: relaxation. A waterbed isn't a cure but it can provide an environment that helps the problem cure itself. Waterbeds conform perfectly to our bodies, which are themselves 75 percent water. We literally'float' on it are efficiently semi-weightless: We relax! Our body's temperature is regulated by the bed's heater so it remains constant, again resulting in relaxation and a better prospect of overcoming sleep issues.
All in all, the benefits of a waterbed vastly outweigh the potential worries (which can mostly be discounted anyway), and give a strong case for the waterbed as the best alternative to a regular spring mattress. While it certainly cannot claim to be a cure for any of the disorders mentioned above, it goes a long way to making regeneration and recovery easier and kinder on the body.
There are a range of different kinds of waterbeds available, and you'll find professional advice and the chance to test various models in your regional waterbed store. Make certain to select the best type for yourself, and make the most of this movement to a waterbed.